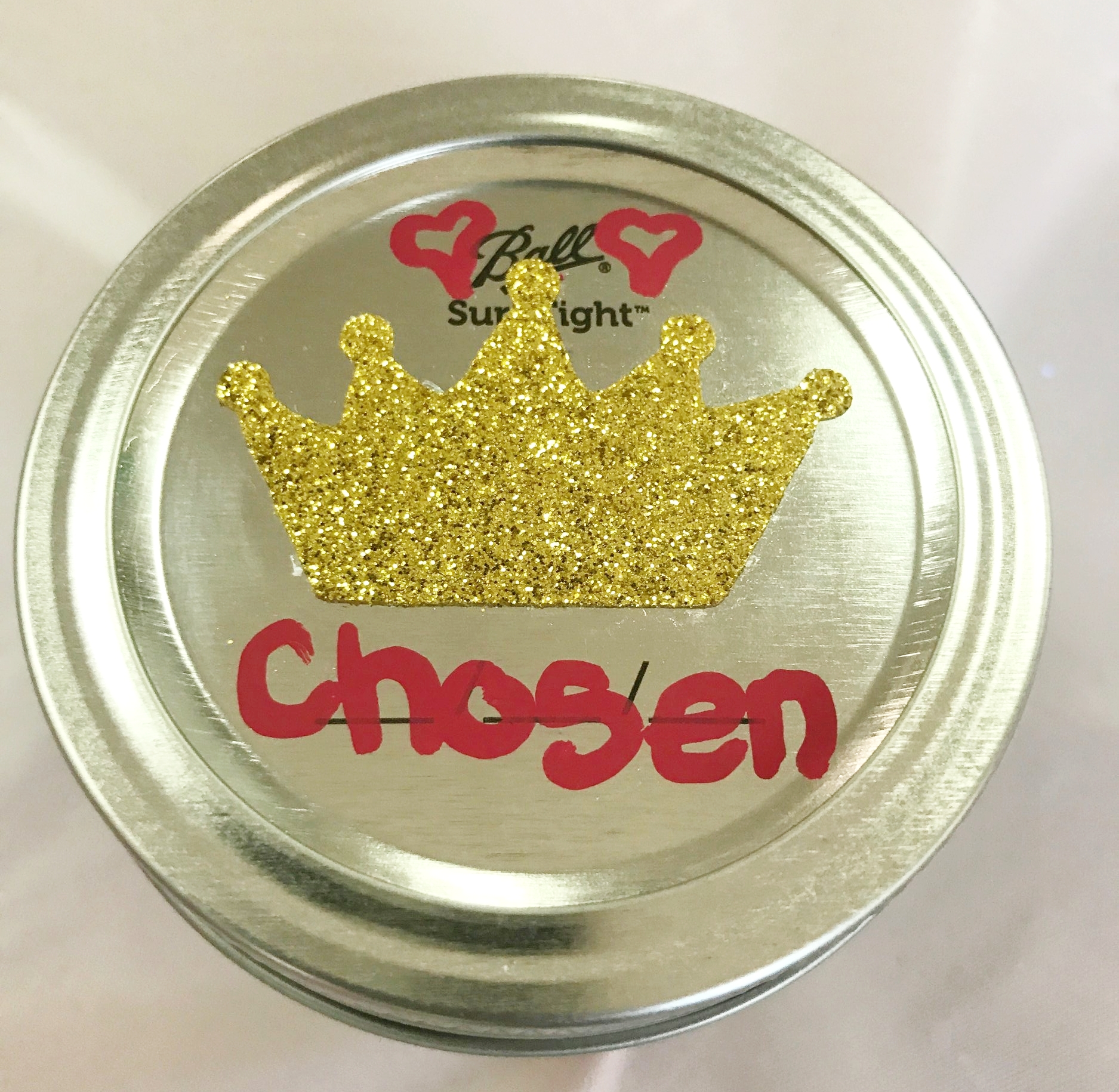 2017: CHOSEN
Out of all the people on the face of the earth, the Lord has CHOSEN you to be His treasured possession. Deut 14:2

The weekend began by sitting down to a catered dinner with candles and crowns thoughtfully placed at each place setting. Each crown symbolized how treasured these women are in the eyes of God. After dinner the ladies enjoyed a bonfire along with smores and hot chocolate. Every year the retreat offers several crafts one of which centers around a handmade gift for each woman to personally make and send to her child. Each birthmother designed an ornament decorated with a crown and a personal message to their child.
The retreat was especially healing for each woman as they discussed grief and loss that can be associated with adoption. The birthmoms were inspired by the speakers as they shared their stories surrounding loss, one of which was a published author and a birth mother herself. On Saturday evening the women were treated to sit down dinner at the Butter Cup Café in Denton, NC.
Every year each birth mother receives a special package from her adoptive family, this year was especially touching as we watched some of the more seasoned birth mothers who have attended the retreat for many years encourage and celebrate the women who were attending the retreat for the first time.
We are especially thankful to the many donors and partnerships that make this weekend possible.
2016: SHINE
My God turns darkness into light. -Psalm 18:28

The weekend was surrounded by love and support. Even though the birth moms have experienced darkness and difficulties, they can still shine through the help and hope of Christ. Each woman was made to feel special by God's light. A true blessing to our ministry, our own Marsha Hancock preached an encouraging message about being "enough". Cementing to all, that they are enough for themselves, but most importantly they are enough for God's love and perfect in his eyes. Marsha's words addressed that there is no place for shame in our lives and relief was felt throughout. It was a sacred time of prayer and support felt by all. Many of the moms were able to let go and give their shame to God. As a keepsake in remembrance of this precious time, Marsha presented each woman with a heart shaped mirror that said "I am enough". Many of the birth mothers were excited to hang the mirror in their bedrooms.
The group enjoyed time at the beach and even a glow-light party at night, but the highlight of any retreat are the packages that the Birth Mother's receive of their children they placed. It is a time of pride and tearful joy; each mother so giving in their support of one another. The packages received are so greatly appreciated and it is truly amazing to witness the incredible process that is adoption. Truly another unforgettable retreat, on to the next!
2015: OUR ANCHOR, OUR HOPE
We have this hope as an anchor for the soul. -Hebrews 6:19

We were able to celebrate 30 of our incredible birth mothers at our 2015 annual Birthmother Retreat. The focus was on hope as an anchor for our souls, and what that truly means as lovers of Christ. The weekend brought stories, encouragement, laughter, and tears, as the women bonded together over their journey as birth moms. They completed an affirmation craft activity, challenging them to think about how they view themselves and how God views them. They used canvases, paints and embellishments to create a daily reminder of who God says they are and used words like, "beautiful, kind, a daughter of God, lovely, honest, a great friend, loved," to describe and define themselves. The highlight of the weekend was the gift given to each birth mom, a Thirty-One gift bag embroidered with an anchor and the word HOPE, that was filled with goodies. The most treasured gifts inside were the pictures and sentiments sent to each birth mom by their respective adoptive couple. The women shared the pictures and gave testimony to how adoption, though a hard choice, benefited them and the children they chose to give the gift of life. The retreat was a blessing to all and we heard reports that, "this was the best retreat ever!!" and "I truly don't know where I would be without CAS." We are thankful for the courage and blessing of these wonderful women!!
2014: BIRDS OF A FEATHER FLOCK TOGETHER
He will cover you with His feathers, & under His wings you will find refuge; His faithfulness will be your shield & rampart. -Psalm 91:4

A wonderful group of ladies gathered together at the Walter Johnson Salvation Army Camp in Denton, NC, for a time of food, fun, fellowship and friend support. These ladies are birth moms who have unselfishly given the beautiful gift of life to adoptive couples. CAS has held birth mom retreats for around 15 years and this weekend, like ones before, provided a wonderful environment for these women to come together to feel loved, supported, and make memories. The theme was "Birds of a Feather Flock Together,' and there were lots of fun owl-related activities, an "Owl will always love you" craft, and lots of fun! The ladies also received special notes and pictures from the adoptive couples with whom they have formed relationships and saw how their birth children were thriving. We thank these women for letting us love on them and for the blessing they are to so many!
2013: BUTTERFLY
This was a "Butterfly" themed retreat- the birth mothers had to go through difficult circumstances yet they still emerged beautiful like butterflies"
2012: LOVE
This retreat was all about "love". The retreat was decorated with hearts to symbolize the birth moms placed their child's needs above their own heart. This picture is a beautiful expression of letting go of heart-shaped balloons. The balloons had messages written by each birth mom as to the reasons they chose adoption. Most of the balloons contained messages of selflessness.
2011: LUAU
Birth moms wrote their child a "message in a bottle" that was forwarded to the adoptive family for the child.